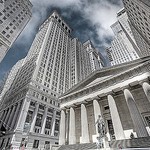 Welcome to our web site:
Established in 1990, Micari Financial Group,LLC is a full service financial practice dedicated to helping individuals and businesses with their investment management and insurance needs.
We take a comprehensive approach to understand our clients needs and then design a solution tailored to meet those needs.  We feel the most important part of our process is the education we provide our clients.  Taking the necessary time to explain the financial concepts, the investments being employed and how they will react to the variables in the financial markets.  The process is designed to provide you with all of the information needed to make a well informed decision.
 We strive to be a valued partner for our clients by helping to achieve their financial goals.
Tax changes in the 2017 Tax Cuts and Jobs Act affect some investors more than others, with implications that spill into the municipal bond market.

More than half of 401(k) participants invest in target-date funds, but are they right for everyone? This article provides an overview.

As new car prices skyrocket, these three trends could make 2019 a good year to buy a three-year-old vehicle.

Before saying "I do," newly-engaged couples may want to discuss these five key financial topics.
Use this calculator to estimate how much income and savings you may need in retirement.

Use this calculator to estimate the cost of your child's education, based on the variables you input.

How Long Will Your Funds Last?