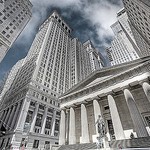 Welcome to our web site:
Established in 1990, Micari Financial Group,LLC is a full service financial practice dedicated to helping individuals and businesses with their investment management and insurance needs.
We take a comprehensive approach to understand our clients needs and then design a solution tailored to meet those needs.  We feel the most important part of our process is the education we provide our clients.  Taking the necessary time to explain the financial concepts, the investments being employed and how they will react to the variables in the financial markets.  The process is designed to provide you with all of the information needed to make a well informed decision.
 We strive to be a valued partner for our clients by helping to achieve their financial goals.
Do you know which factors influence bond yields and why the gap between short- and long-term yields is often viewed as an economic indicator?

A look at what's driving the high consumer confidence level and the importance of consumer spending to the broader economy.

Surprised by the final numbers on your 2018 tax return? Here are some tips for adjusting withholding to help avoid surprises next tax season.

Balancing stocks and bonds can be a central part of building an investment portfolio. Find out how balanced funds follow a similar strategy.
Use this calculator to estimate how much income and savings you may need in retirement.

How Long Will Your Funds Last?

Use this calculator to estimate the cost of your child's education, based on the variables you input.